Projects
Pickett Mountain Property
The Pickett Mtn. Resource Statement is effective January 7, 2019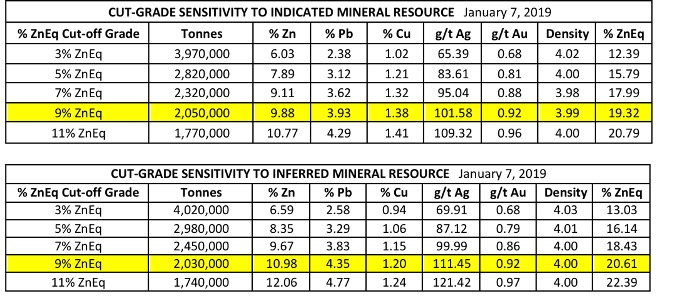 Mineral Resource Estimate Parameters and Assumptions
Mineral Resources are not Mineral Reserves and do not have demonstrated economic viability. There is no certainty that all or any part of the Mineral Resources will be converted into Mineral Reserves.
Resources are presented as undiluted and in-situ for an underground mining scenario and are considered to have reasonable prospects for economic extraction.
The metal prices used to determine Zinc Equivalent (ZnEq) grades where US$1.20/pound for zinc, US$1.00/pound for lead, US$2.50/pound for copper, US$16.00/troy ounce for silver, and US$1200/troy ounce for gold. The base case utilized a calculated cut-off grade of 9.00% ZnEq.
Indicated Resources were estimated using a maximum distance of 25 metres from a drill hole and meeting a single hole minimum.
Inferred Resources were estimated utilizing a no hole minimum and using a minimum of 25 metres and maximum of 200 metres from a drill hole.
The MRE encompasses 3 mineralized massive sulphide lenses.
A total of 148 drill holes comprise the database including 2550 samples; of these 940 samples were utilized in the estimate.
Grade capping was not utilized as it was noted that the general uniformity of grade was fairly consistent with no significant outliers in the assay results.
The specific gravities used in the MRE were based on a total of 253 physically measured specific gravities within the mineralized lenses.
Wolfden is not aware of any legal, political, environmental or other risks that could materially affect the potential development of the mineral resources.